Biggest "Idiot on a Ladder" winner unveiled
A safety trade body has announced the winner of its three month hunt to find the biggest idiot on a ladder.
The Ladder Association invited members of the public to send in shots for its Idiots on Ladders campaign in September.
A Facebook vote was then held to decide the worst uses of ladders with the clear winner showing a worker reaching up to the top of a chimney with a gaping fall directly below him.
Cameron Clow, Chairman of the Ladder Association, said: "This competition was all about raising awareness and as such it was run alongside the Ladder Exchange, which offers people and businesses the chance to trade in unsafe ladders for new, compliant ones.
"We wanted to show together two of the biggest dangers in the workplace – people using their ladders in an unsafe way, and people using equipment that is unfit for purpose.
"Ladders are arguably the most common type of equipment used for work at height – it is estimated that three million are in use in the UK alone.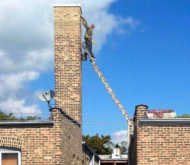 "Reported ladder accidents have fallen by over 30% over the last 10 years, but more clearly needs to be done."
Source: Construction Enquirer